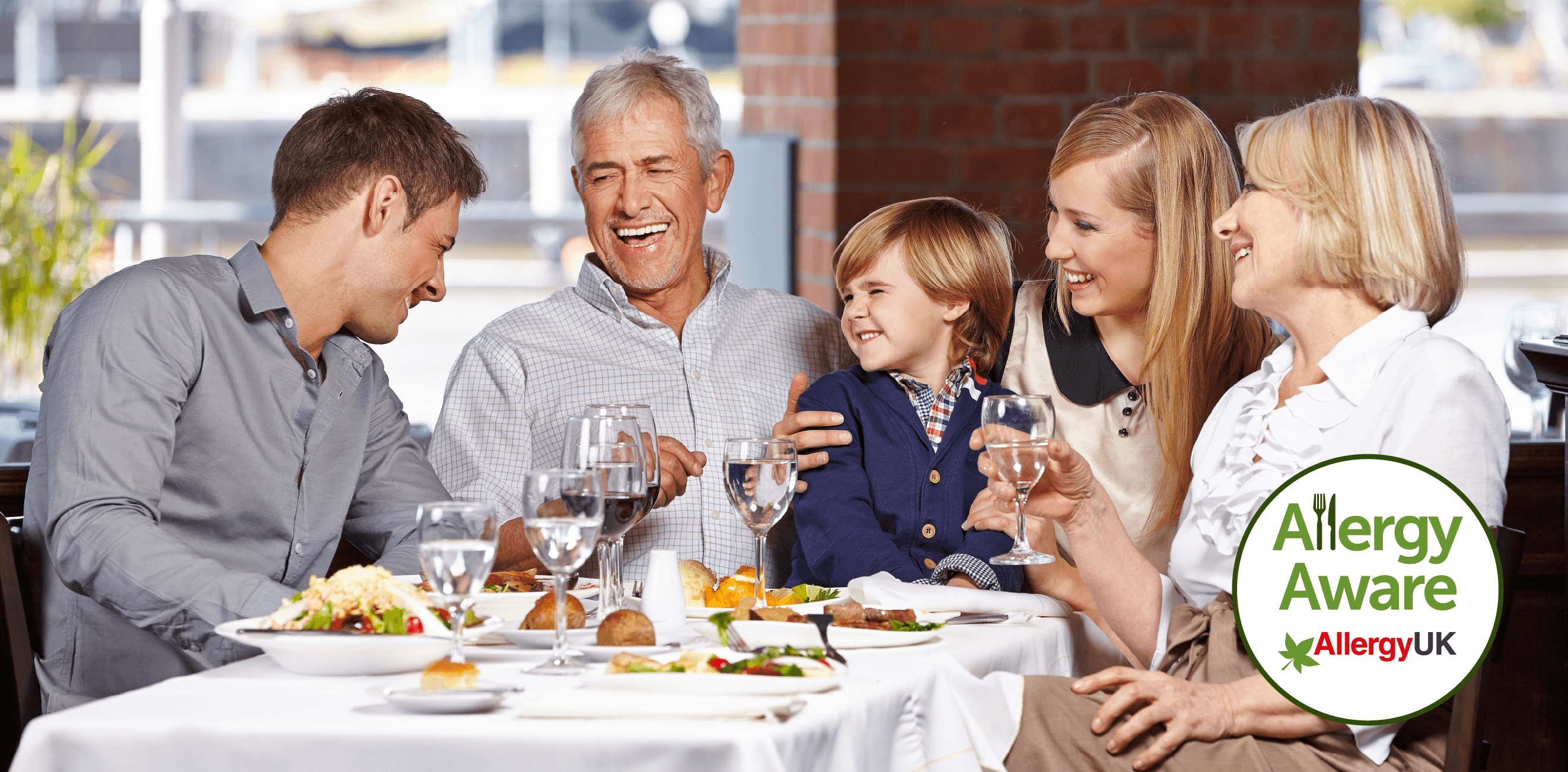 Allergy Aware Scheme
The Allergy Aware Scheme™ has been designed to help food outlets manage the kitchen and front-of-house issues that can arise when serving customers who have a food allergy. It provides an opportunity for catering outlets to demonstrate their commitment to safeguarding their customers with food allergy.
This scheme recognises food outlet(s) which have undergone an independent site audit which is carried out by a food safety expert on behalf of Allergy UK.
It will put peace of mind on the menu, for you and for your customers, and can reduce the risk of a customer having an anaphylactic reaction on your premises.
In a survey we jointly conducted with the Food Standards Agency in 2016, 92% of allergy sufferers said they would feel more confident eating out at a restaurant recognised by Allergy UK. When dining out with friends or family, 67% of allergy sufferers stated that they make the decision on where to eat.
What's Involved?
A dedicated account manager will work with you to explain the application and self-assessment processes and to arrange the independent site audit(s).
The audit assesses staff training, suppliers, purchase and delivery of orders, storage of goods and food handling and preparation, as well as order taking and front of house.
Whilst we recommend the following levels of training for staff as the 'Gold Standard', we understand this may not be realistically achievable, the minimum requirement for staff training is the e-learning modules 1 & 2 from Highfield Qualifications, available from Allergy UK.
Kitchen Management Staff: Level 3 Food Safety, Level 2/3 Food Allergy training
Other Management Staff: Level 2 Food Safety, Level 2/3 Food Allergy training
Non-management staff: Level 1 basic allergy training (the online, free FSA course is accepted)
When your application has been approved you will receive a licence agreement to use the Allergy Aware Scheme™ logo.
The scheme is annually renewable to ensure you stay on top of changes in legislation and the world of food allergy.  This will include a site audit.
Costs
For all new businesses applying to join the scheme during our special promotional period, the application fee is £500.00 (+VAT) per outlet.
Your account manager will provide a bespoke quotation.
Please contact us to discuss an application or you can complete the form here
Features and Benefits
Recognition by Allergy UK's  Allergy Aware Scheme reassures your customers with food allergy that you have undergone food allergy training.  It also indicates that you have enhanced knowledge and understanding of how to respond to and serve customers who have food allergy.
Affiliation with the leading allergy patient charity in the UK provides an opportunity to create further awareness within the allergic community through working with us on bespoke projects.
It gives you direct access to a target audience seeking a safer environment when eating out of home.
It provides evidence to your local Environmental Health Officer that you are operating above and beyond what is required by the Food Information Regulations. This will contribute towards your overall Food Hygiene Rating, failure to implement robust allergen management may result in a 1 star rating.
You will be leading the way in the industry by going one step further than just legal compliance.
Allergy UK's Helpline Advisors, who are trained in all aspects of allergy, will be able to refer people to  information about your food outlet.
The logo provides visual recognition that you are going the extra mile for the 21 million people in the UK who live with allergy.
Media activity will include press releases announcing your inclusion in the scheme to both national trade and consumer media, announcements in Allergy UK's monthly e-newsletter and through our social media channels.
Your outlet will be listed in the Restaurant and Café Guide on the Allergy UK website.
You will have free access to the Allergy Aware Scheme educational video which is translated into a number of languages.
Additional
Once your outlet(s) is part of the scheme,  you have the opportunity to become a Corporate Partner and work with us in other ways including:
Fundraising
Campaign sponsorship
Marketing campaigns
How to Apply
Contact endorsements@allergyuk.org or use the contact form below.